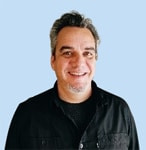 Name and surname : Cruz Miguel Cendán Martínez.
Titles:
Current charges:
Titular Professor at the University of Granada.
Institution / Affiliation: Department of Pharmacology. School of Medicine. University of Granada.
City-Country : Granada, Spain.
Memberships:
Institute of Neurosciences, Center for Biomedical Research (CIBM) ​​and Institute for Biosanitary Research (IBS), Granada.
Andalusian Network for Research on Drug Dependence and Addictions (RAIDA)
Spanish Society of Pharmacology
Spanish Society of Pain
Research lines / topics:
Currently, my line of research is related to the study of neurobiological and behavioral determinants in binge-type or binge-drinking alcohol consumption, and the role of sigma-1 receptors evaluating their potential use as a pharmacological treatment for this addiction. To do this, we use behavioral paradigms and carry out neuroanatomical studies comparing adolescent and adult animals of both sexes, and their modulation by sigma-1 receptors.
Main publications:
Ruiz-Leyva L, Salguero A, Morón I, Portillo-Salido E, Cendán CM, Pautassi RM. Sigma-1 antagonism inhibits binge ethanol drinking at adolescence. Drug Alcohol Depend. 215: 108214. 2020
Salguero A, Suarez A, Luque M, Ruiz-Leyva L, Cendán CM, Morón I, Pautassi RM. Binge-Like, Naloxone-Sensitive, Voluntary Ethanol Intake at Adolescence Is Greater Than at Adulthood, but Does Not Exacerbate Subsequent Two-Bottle Choice Drinking. Front Behav Neurosci. 9; 14: 50.2020
Other academic / professional background:
Throughout my research career I have actively collaborated with the pharmaceutical industry, specifically with the Esteve laboratories (Barcelona), in the search for treatments preferably for pain, and currently for substance addiction. During the years 2006-2008, I did a postdoctoral stay in the group "Molecular Nociception Group" directed by Prof. John Wood at the University College London (UCL) in the United Kingdom. Currently I perform numerous management tasks, being Vice Dean of Research, International Relations and Postgraduate, in the Faculty of Health Sciences, and member of the International Relations Commission of the University of Granada.