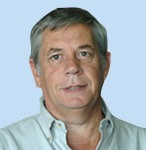 Name and surname: Eduardo Cánepa.
Titles:
Degree in Chemical Sciences.
Doctor from the University of Buenos Aires, Biological Chemistry area.
Current charges:
Associate Professor OF UBA.
CONICET Principal Investigator.
Institution / Affiliation: Department of Biological Chemistry-Faculty of Exact and Natural Sciences of the University of Buenos Aires IQUIBICEN-CONICET.
City-Country : Buenos Aires, Argentina.
Memberships:
Argentine Society for Clinical Research (SAIC)
Argentine Society for Research in Neurosciences (SAN)
Argentine Society for Research in Biochemistry and Molecular Biology (SAIB)
Society for Research in Child Development (SRCD)
Research lines / topics:
Effects of abuse of cocaine base paste in adolescents: Brain connectivity, frontal lobe functionality and global gene expression profile. Project carried out in collaboration with INECO and INCYT.
Impact of the administration of cocaine base paste (PBC) on cognitive and social capacities and the global profile of gene expression in an animal model
 Both projects, one in young people and adolescents and the other in a murine model, have as main objective to characterize the cellular and molecular mechanisms involved in the consequences derived from the consumption of PBC.
Main publications:
"Effects of cocaine base paste on anxiety-like behavior and immediate-early gene expression in nucleus accumbens and medial prefrontal cortex of female mice".
Bruno G. Berardino, Estefanía A. Fesser, Laura M. Belluscio, Octavio Gianatiempo, Nicolás Pregi and Eduardo T. Cánepa.
Psychopharmacology 236 (2019), 3525-3539. 
"Multimodal neurocognitive markers of interoceptive tuning in smoked cocaine".
Laura de la Fuente, Lucas Sedeño, Sofia Schurmann, Camila Ellmann, Silvina Sonzogni, Laura Belluscio, Indira García-Cordero, Eugenia Castagnaro, Magdalena Boano, Marcelo Cetkovitch, Teresa Torralva, Eduardo Cánepa, Enzo Tagliazucchi, Adolfo Garcia, and Agustin Ibanez.
Neuropsychopharmacology 44 (2019), 1425-1434.
Other academic / professional background:
I direct the Neuroepigenetics and Early Adversities laboratory. In addition to those mentioned, we carry out the following lines of research in our laboratory.
"Epigenetic regulation and the development of cognitive and socio-emotional capacities in conditions of perinatal malnutrition".
"Child abuse: association of changes in the epigenome with disorders in mental health and psychotherapeutic intervention".
I carry out teaching activities in the subjects of degree Biological Chemistry and Molecular Biology for the careers of Chemical Sciences and Biological Sciences at the FCEyN-UBA and in the postgraduate course Epigenetics, interface between genetics and the environment.