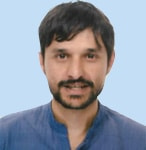 Name and surname : Eduardo Guillermo López Caneda.
Titles:
Doctor in Neuroscience from the University of Santiago de Compostela.
Current charges:
Institution / Affiliation: Center for Research in Psychology (CIPsi), School of Psychology, University of Minho.
City-Country : Braga, Portugal.
Memberships:
Member of the Spanish Society of Psychophysiology and Conitive Neuroscience (SEPNECA) and of the European Society of Cognitive and Affective Neuroscience (ESCAN).
Research lines / topics:
Study of the consequences of intensive alcohol consumption ( binge drinking ) in the brain of young people and adolescents, based on multiple techniques such as electroencephalography (EEG) or functional and structural magnetic resonance imaging (MRI).
Exploration of the attentional bias for alcoholic-type images in social consumers ( social drinkers ) and intensive consumers ( binge drinkers ).
Evaluation of inhibitory control abilities in patients with alcohol abuse disorder.
Main publications:
Antunes, N., Crego, A., Carbia, C., Sousa, S., Rodrigues, R., Sampaio, A., and López-Caneda, E. (2021). Electroencephalographic signatures of the binge drinking pattern during adolescence and young adulthood: A PRISMA-driven systematic review. NeuroImage: Clinical . https://doi.org/10.1016/j.nicl.2020.102537
Carbia, C., Lannoy, S., Maurage, P., López-Caneda, E. , O'Riordan, K., Dinan, TG, and Cryan, JF (2020) A Biological Framework for Emotional Dysregulation in Alcohol Misuse: From Gut to Brain. Molecular Psychiatry . https://doi.org/10.1038/s41380-020-00970-6
López-Caneda, E. , Crego, A., Campos, AD, González-Villar, A., and Sampaio, A. The Think / No-Think Alcohol Task: A New Paradigm for Assessing Memory Suppression in Alcohol-Related Contexts. (2019). Alcoholism: Clinical and Experimental Research , 43, 36-47. DOI: https://doi.org/10.1111/acer.13916
López-Caneda, E. , Rodríguez Holguín, S., Correas, A., Carbia, C., González-Villar, A., Maestú, F., and Cadaveira, F. (2017). Binge drinking affects brain oscillations linked to motor inhibition and execution. Journal of Psychopharmacology , 31, 873-882.
López-Caneda, E. , Cadaveira, F., Crego, A., Gómez-Suárez, A., Corral, M., Parada, M., Caamaño-Isorna, F., and Rodríguez Holguín, S. (2012) . Hyperactivation of right inferior frontal cortex in young binge drinkers during response inhibition: a follow-up study. Addiction, 107, 1796-1808. DOI: https://doi.org/10.1111/j.1360-0443.2012.03908.x