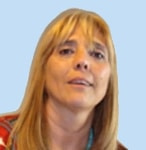 Name and surname : Gabriela Beatriz Acosta.
Titles:
Degree in Biological Sciences, CAECE University.
Doctor from the University of Buenos Aires, Pharmacology area, Faculty of Pharmacy and Biochemistry, UBA.
Current charges:
Independent Researcher at CONICET.
Teaching "Ad honorem" Partial. Chair of Pharmacology. School of Medicine. UBA.
Institution / Affiliation: Institute of Cognitive and Translational Neuroscience (INCYT) - CONICET-Favaloro University, INECO Foundation.
City-Country : Buenos Aires, Argentina.
Memberships:
Honorable Member Incorporated Japanese General Association called "Prophylactic Pharmacology Research Institute (RIPP)" founded by Dr. Yukio Yoneda.
Member of the scientific council of the Latin American Journal of Psychopharmacology and Neuroscience - Editorial Médica Sciens.
Research lines / topics:
The line of work is to study exposure to stressful situations during the first years of life and how early adverse effects increase the risk of post-traumatic stress, depression and addiction to drugs of abuse, such as alcohol.
Main publications:
1-Chronic postnatal stress induces voluntary alcohol intake and modifies glutamate transporters in adolescent rats. Odeon MM, Andreu M, Yamauchi L, Grosman M, Acosta GB. Stress: The International Journal on the Biology of Stress 18 (4): 427-434. 2015.
2-Long-term effects of repeated maternal separation and ethanol intake on HPA axis responsiveness in adult rats. Odeon MM, Yamauchi L, Grosman M, Acosta GB. Brain Res. 1657: 193-201. 2017.
3-Voluntary alcohol intake after noise exposure in adolescent rats: hippocampal-related behavioral alterations. Miceli M, Molina SJ, Forcada A, Acosta GB , Guelman LR. Brain Res. 1679: 10-18. 2018
4-Prenatal stress and its effects of human cognition, behavior and psychopathology: a review of the literature. Ramborger ME, Zorrilla Zubilete MA, Acosta GB . Pedriatric Dimention 3 (1): 1-6. 2018.
5-Repeated maternal separation: Alcohol consumption, anxious behavior and corticosterone were reversed by a non-pharmacological treatment. Odeon MM, Acosta GB. Progress in Neuropsychopharmacology & Biological Psychiatry 95: 109726 2019.
Other academic / professional background:
He did academic stays at the Department of Molecular Pharmacology, University of Kanazawa, Japan; Department of Anatomy and Histology, University of Sydney, Sydney, Australia; Institute of Neurosciences, Miguel Hernández University, Elche, Spain.