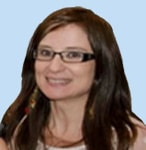 Name and surname : Nebel Silvana Moscoso.
Titles:
Degree in Economics. National University of the South (UNS).
Doctor in Economics. UNS.
Current charges:
Independent Researcher of the National Council for Scientific and Technical Research.
Associate Professor in Health Economics (Universidad Nacional del Sur).
Institution / Affiliation: Universidad Nacional del Sur.
City-Country : Bahía Blanca, Argentina.
Memberships
Member of the Health Systems Economics and Engineering Group ( www.geiss.uns.edu.ar ).
Full member of the Bioethics Committee of the Bahía Blanca Municipal Hospital.
Member of the Ibero-American Network of Clinical and Preclinical Researchers in Addictions and Problematic Substance Use (RICBA). Ibero-American Postgraduate University Association.
Main lines of research
Estimation of disease costs.
Evaluation of conditions of access to health services.
Design of tools in economics and management of health services. 
Publications related to RICPA
Methodologies for estimating indirect costs of traffic accidents. Medical Journal of the Mexican Institute of Social Security. 2017; 55 (4): pp. 441-51. ISSN: 0484-7849.
Disease costs: classification and analysis perspectives. Health Sciences. 2017; 15 (1): pp. 49-58. ISSN 1692-7273.
Conceptual delimitation of Primary Health Care. Cuban Journal of Public Health. Jul / Sep 2017, vol. 43, n.3, pp. 1-17. ISSN 0864-3466.
A Review of Clinical and Economic Evaluations Applied to Psychotropic Therapies Used in the Treatment of Schizophrenia in Argentina. PharmacoEconomics Open (2017). ISSN 2509-4254.
A Method for Estimating Need, Supply and Demand in Primary Health Care: Application in an Argentinean Municipality. Medicc Review Magazine, July, Vol. 20 Nº 2, 2018. ISSN 1527-3172.
Other background:
Author of numerous research papers, published in magazines and presented at conferences.
Management of doctoral and postdoctoral fellows, researchers, doctoral theses and master's thesis.
Management of research, transfer, technological and social development projects.
Evaluating member of doctoral theses, scientific journals, research papers and projects, research staff, teaching positions, and work in congresses.