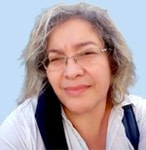 Name and surname: Silvia Olivera Bravo.
Titles:
Current charges:
Researcher
Head of the Laboratory of Cellular and Molecular Neurobiology (NBCM), IIBCE.
Member of the IIBCE Board of Directors.
Institution / Affiliation: Clemente Stable Biological Research Institute (IIBCE), Ministry of Education and Culture, Uruguay.
City-Country : Montevideo, Uruguay.
Memberships:
IBRO, SABRO, SUB (Uruguayan Society of Biosciences),
SNU (Society of Neurosciences of Uruguay),
SBBM (Society for Biochemistry and Molecular Biology),
Society of Researchers of Uruguay (SNU),
PEDECIBA (Basic Sciences Development Program); SNI (National System of Researchers).
Research lines / topics:
Role of glial cells, particularly astrocytes, in conditions detrimental to neurodevelopment (prenatal alcohol exposure, nutritional iron deficiency, type I glutaric acidemia) and in neurodegeneration. Search for biomarkers of problematic alcohol use in adults.
Main publications:
BOLATTO, OLIVERA-BRAVO, CERRI 2021. Dissection of single skeletal muscle fbers for immunofluorescent and morphometric analyzes of whole-mount neuromuscular junctions. Accepted JOVE.
MARCO et al. 2020. Gelatinases as markers of chronic alcoholism: a pilot study in Uruguay. An Facultad Med (Univ Republica Urug) 7 (1): e2020v7n1a3.
ISASI and OLIVERA-BRAVO 2020. Pericytes in Neurometabolic Diseases. Current Tissue Microenvironment Reports 1 (24): 1-11
ISASI et al. 2019. Glutaric acid affects pericyte contractility and migration: possible implications for GA-I pathogenesis ». Mol Neurobiol. 56 (11): 7694–7707.
OLIVERA-BRAVO et al. 2019. Long lasting high lysine diet aggravates white matter injury in glutaryl-CoA dehydrogenase deficient (Gcdh - / -) mice. Mol Neurobiol. 56 (1): 648-657.
VASILSKIS et al. 2017. Comparative In Vitro Study of 11C-Methionine and 11C-Deuterodeprenyl Uptake in Three Human Glioma Cell Lines. Cancer Biother Radiopharm; 32 (9): 344-350.
JIMÉNEZ-RIANI et al. 2017. Ultrastructural features of aberrant glial cells isolated from the spinal cord of paralytic rats expressing the amyotrophic lateral sclerosis-linked SOD1G93A mutation. Cell Tissue Res. 370 (3): 391-401.
Other academic / professional background:
Teaching at the undergraduate and postgraduate level at the master's and doctoral levels.
Participation in national, regional and international scientific meetings.
Science extension and promotion activities (President of the Uruguayan Society of Biosciences (SUB), member of the directives of SUB, SBBM, SNU, PEDECIBA.
Management activities: Coordinator of the IIBCE Neurosciences Division, member of the IIBCE Board of Directors and the FAICE Board of Directors.
Collaborations with national researchers (Faculty of Medicine, Faculty of Sciences, IPMon, CUDIM), regional (Argentina and Brazil) and international (Spain and United Kingdom).