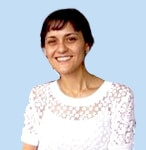 Name and surname : Silvina Verónica Sonzogni.
Titles:
Degree in Genetics. Faculty of Exact, Chemical and Natural Sciences, National University of Misiones (UNaM), Posadas, Misiones, Argentina.
Doctor from the University of Buenos Aires, Biological Chemistry area. Faculty of Exact and Natural Sciences (FCEN), University of Buenos Aires.
Current charges:
Assistant Researcher at the National Council for Scientific and Technical Research (CONICET, Argentina).
Institution / Affiliation: Laboratory of Neuroepigenetics and Early Adversities, Institute of Biological Chemistry (IQUIBICEN), Faculty of Exact and Natural Sciences, University of Buenos Aires.
City-Country : Buenos Aires, Argentina.
Memberships:
Argentine Society for Neuroscience Research (SAN)
International Society for Neurochemistry (ISN)
Research lines / topics:
Effects of abuse of cocaine base paste in adolescents: Brain connectivity, frontal lobe functionality and global gene expression profile.
This project is carried out in conjunction with the Institute of Cognitive and Translational Neuroscience (INCYT) and its main objective is to characterize the cellular and molecular mechanisms involved in addiction to Cocaine Base Paste (PBC).
Impact of the administration of PBC on the cognitive and social capacities and the global profile of gene expression in an animal model.
Main publications:
Multimodal neurocognitive markers of interoceptive tuning in smoked cocaine. de la Fuente A, Sedeño L, Vignaga S, Ellmann C, Sonzogni S, Belluscio L, García-Cordero I, Castagnaro E, Boano M, Cetkovich M, Torralva T, Cánepa ET, Tagliazucchi E, Garcia AM, Ibañez A. Neuropsychopharmacology . 2019 Mar 13. doi: 10.1038 / s41386-019-0370-3.
Other academic / professional background:
I carry out university teaching tasks in the postgraduate course "Epigenetics: interface between genetics and the environment" Dictated at the Department of Biological Chemistry, FCEN, UBA. And also in the area of ​​non-formal education, forming part of the School Support and Educational Accompaniment team in the neighborhood of Fátima, Villa Soldati (CABA), which belongs to the university extension area of ​​the Department of Biological Chemistry, Faculty of Exact Sciences and Natural, University of Buenos Aires.