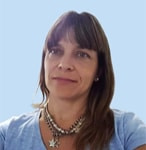 Name and surname :  Vanina Andrea Fontana.
Titles:
Degree in Biological Sciences with a Biology orientation. Molecular (1999) CAECE University.
Doctor from the University of Buenos Aires in the Chemistry area. Biológica (2008), University of Buenos Aires.
Current charges:
Assistant researcher CONICET.

Head of practical work FCEN-UBA.
Institution / Affiliation:  IQUIBICEN-CONICET
City-Country : Buenos Aires, Argentina.
Memberships:
Full member of the Argentine Society for Clinical Research.
Research lines / topics:
Our line of research is based on the study of paternal consumption of environmental or ingested toxins (such as alcohol) on sperm biology and biochemistry, focusing on chromatin decondensation and evaluating its impact on progeny.
Main publications:
"Murine sperm capacitation, oocyte penetration and decondensation following moderate alcohol intake" Sánchez Melisa C, Fontana Vanina , Galotto Camila, Cambiasso Maite, Sobarzo Cristian, Calvo Lucrecia, Calvo Juan Carlos, Cebral Elisa. Reproduction. 2018 Apr 6. pii: REP-17-0507. doi: 10.1530 / REP-17-0507.
In vitro effects of endosulfan-based insecticides on mammalian sperm. Melisa Sánchez, Cristian Álvarez Sedo, Gabriela Chaufan, Marina Romanato, Rodrigo Da Cuña, Fabiana Lo Nostro, Juan Calvo, Fontana Vanina . Toxicology Research, 2018, 7, 117-126. First published on 23 Nov 2017, doi: 10.1039 / C7TX00251C
Other academic / professional background:
Completion of post-doctorate 2010. University of Buenos Aires. "Participation of vasoactive factors, growth and oxidative state in the modulation of metalloproteases and adhesion molecules during early murine placentation". Direction of Dr. Juan Carlos Calvo and co-direction of Dr. Elisa Cebral.
IMPROVEMENT COURSES:  Participation in 21 courses, including those carried out for Doctorates.
PRESENTATION IN SCIENTIFIC MEETINGS: From 1997 to the present I have participated in 64 national and international meetings.
EXTENSION ACTIVITIES: Participation in the Night of the Museums, FCEN-UBA Chemistry Week, Book Fair. Two publications in Química Viva. Participation in the training of middle school students organized by ORT and DOV-UBA. Participation in UBATIC + II conferences.
EVALUATION ACTIVITIES: Jury of 6 UBA undergraduate theses, jury of 3 UBA teaching contests, jury of posters in 2 scientific meetings (SAIC, IFPA).
TEACHING ACTIVITIES: Undergraduate university teacher since 2000 at the CAECE University and from 2009 to the present at FCEN-UBA. Teacher in 10 postgraduate courses from 2000 to the present.
GRANTS: Participation in 18 grants: 2 as director, 2 as co-director, 14 as participant
MANAGEMENT ACTIVITIES: Alternate member for the faculty of graduates of the Departmental Commission (CODEP) of the Department of Biological Chemistry, 2016-2018.
COLLABORATIONS: Current collaborations with: Dr. Eduardo Cánepa (IQUIBICEN-CONICET), Dr. Alejandra Erlejman (IQUIBICEN-CONICET), Dr. Gabriela Salamone (IMEX-CONICET).
AWARDS : 2019: 1st Prize «HAROLD KALANT» for the best work in LASBRA: "PATERNAL ALCOHOL CONSUMPTION ALTERS OFFSPRING´S BEHAVIOR AND EARLY MOTOR ABILITY DEVELOPMENT" Gotfryd L, Stinson MG, Fesser E, Nemirovsky S, Erlejman AG, Calvo E JC, Fontana VA.