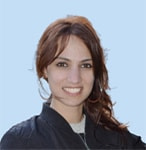 Name and surname : Verónica Pastor.
Titles:
Biochemistry.
Doctor from the University of Buenos Aires-Pharmacy and Biochemistry Area.
Current charges:
CONICET Researcher -Assistant Category at IBCN (UBA-CONICET).
Professor of Physiology at the Faculty of Medicine, UBA.
Institution / Affiliation: CONICET-University of Buenos Aires, Institute of Cell Biology and Neuroscience "Prof. Eduardo De Robertis "(IBCN), Buenos Aires, Argentina.
University of Buenos Aires, Faculty of Medicine, Department of Physiological Sciences, Buenos Aires, Argentina.
City-Country : Buenos Aires, Argentina.
Memberships:
Argentine Society for Research in Neuroscience
International Society for Neurochemistry
Research lines / topics:
Using pharmacological, behavioral and biochemical techniques, we seek to elucidate the molecular mechanisms underlying the development of memories / behaviors induced by cocaine. We focus on the study of various neuromodulatory systems in the reward circuit and on individual vulnerability models.
Main publications:
Pastor V, Castillo Díaz F, Sanabria VC, Dalto JF, Antonelli MC, Medina JH (2021) Prefrontal cortex nicotinic receptor inhibition by methyllycaconitine impaired cocaine-associated memory acquisition and retrieval. Behav Brain Res. Doi: 10.1016 / j.bbr.2021.113212
Pastor V, Medina JH (2021) Medial prefrontal cortical control of reward- and aversion-based behavioral output: bottom-up modulation. Eur J Neurosci. doi: 10.1111 / ejn.15168.
Pastor V, Pallarés ME, Antonelli MC. (2018) Prenatal stress increases adult vulnerability to cocaine reward without affecting pubertal anxiety or novelty response. Behav Brain Res. 339: 186-194. doi: 10.1016 / j.bbr.2017.11.035.
Pastor V, Antonelli MC, Pallarés ME (2017) Unraveling the link between prenatal stress, dopamine and substance use disorder. Neurotox Res. 31 (1): 169-186. doi: 10.1007 / s12640-016-9674-9.
Other academic / professional background:
Specialization Courses in Neuroscience and Addictions
ISN-JNC Flagship School "The malleable brain: plasticity of neural circuits and behavior". International Society for Neurochemistry and Journal of Neurochemistry . Alpbach, Austria. 2016.
FENS / IBRO "Cellular Biology of Addiction" -Cold Spring Harbor Laboratory (CSHL). Barcelona Biomedical Research Park (PRBB), Barcelona, ​​Spain. 2012.
Ricardo Miledi Neuroscience Training Program "Neuroscience: from basic mechanisms to brain diseases". Clemente Stable Biological Research Institute. Montevideo, Uruguay. 2011.