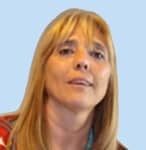 Nombre y apellido: Gabriela Beatriz Acosta.
Títulos:
Licenciada en Ciencias Biológicas, Universidad CAECE.
Doctora de la Universidad de Buenos Aires, área Farmacología, Facultad de Farmacia y    Bioquímica, UBA.
Cargos actuales:
Investigadora Independiente del CONICET.
Docente "Ad honorem" Parcial.  Cátedra de Farmacología. Facultad de Medicina. UBA.
Institución/Afiliación: Instituto de Neurociencia Cognitivas y Traslacional (INCYT)- CONICET-Universidad Favaloro, Fundación INECO.
Ciudad-País: Buenos Aires, Argentina.
Membresías:
Miembro Honorable Incorporated Japanese General Association llamado" Prophylactic Pharmacology Research Institute (RIPP)" fundada por el Dr. Yukio Yoneda.
Miembro del consejo científico de la Revista Latinoamericana de Psicofarmacología y Neurociencia- Editorial Médica Sciens.
Líneas/tópicos de investigación:
La línea de trabajo  es  estudiar la exposición a situaciones de estrés durante los primeros años de vida y cómo los efectos adversos tempranos aumentan el riesgo de sufrir estrés postraumático, depresión y adicción a las drogas de abuso, como el alcohol.
Principales publicaciones:
1-Chronic postnatal stress induces voluntary alcohol intake and modifies glutamate transporters in adolescent rats. Odeon MM, Andreu M, Yamauchi L, Grosman M, Acosta GB. Stress: The International Journal on the Biology of Stress 18(4): 427-434. 2015
2-Long-term effects of repeated maternal separation and ethanol intake on HPA axis responsiveness in adult rats. Odeon MM, Yamauchi L, Grosman M, Acosta GB. Brain Res. 1657: 193-201. 2017
3-Voluntary alcohol intake after noise exposure in adolescent rats: hippocampal-related behavioral alterations. Miceli M, Molina SJ, Forcada A, Acosta GB,  Guelman LR. Brain Res. 1679: 10-18. 2018
4-Prenatal stress and its effects of human cognition, behavior and psychopathology: a review of the literature. Ramborger ME, Zorrilla Zubilete MA, Acosta GB. Pedriatric Dimention 3(1): 1-6. 2018.
5-Repeated maternal separation: Alcohol consumption, anxious behavior and corticosterone were reversed by a non-pharmacological treatment. Odeon MM, Acosta GB. Progress in Neuropsychopharmacology & Biological Psychiatry  95:   109726  2019.
Otros antecedentes académicos/profesionales:
Realizó estancias académicas en la Departamento de Farmacología Molecular, Universidad de Kanazawa, Japón;  Departamento de Anatomía e Histología, Universidad de Sydney, Sydney, Australia;  Instituto de Neurociencias, Universidad Miguel Hernández, Elche, España.