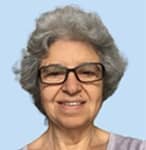 Nombre y apellido: Herminia Alicia Brusco.
Títulos:
Dra en Bioquímica, Universidad de Buenos Aires.
Cargos actuales:
Investigadora Principal Contratada Ad-Honorem del CONICET. Docente Autorizada Facultad de Medicina UBA.
Directora del Laboratorio de Neurotoxicidad, Neuroprotección y Neuroreparación del Instituto de Biología Celular y Neurociencia. Neurociencia  "Prof. E. De Robertis" IBCN (UBA-CONICET).
Profesora de la Maestría Internacional en Ciencias Biomédicas (IMBS; UBA- Universidad de Friburgo, Alemania).
Directora de tres tesis doctorales de la UBA.
Institución/Afiliación: Instituto de Biología Celular y Neurociencia "Prof. E. De Robertis" IBCN   (UBA-CONICET). Facultad de Medicina UBA.
Ciudad-País: Buenos Aires, Argentina.
Membresías: Society for Neuroscience
                         International Drug Abuse Research Socity
                         Sociedad Argentina de Investigacion en Neurociencia
Líneas/tópicos de investigación: Neurociencias, estudio de la estructura y ultraestructura del Sistema Nervioso Central en desarrollo y bajo distintas condiciones experimentales. Herramientas utilizadas: inmunocitoquímica (neurotransmisores, proteínas neuronales y gliales); tratamientos farmacológicos; exposición a sustancias de abuso; cirugías intracraneales; microscopía óptica y electrónica.  Modelos experimentales en rata y ratón: alcoholismo materno fetal y exposición a cannabinoides durante la gestación o en la adolescencia. Se focaliza en el análisis de posibles moléculas neuroprotectoras y neurorreparadoras.
Principales publicaciones:
– ANXIOUS BEHAVIOR OF ADULT CD1 MICE PERINATALLY EXPOSED TO LOW   CONCENTRATIONS OF ETHANOL CORRELATES WITH MORPHOLOGICAL CHANGES IN     CINGULATE CORTEX AND AMYGDALA.
Madarnas, Villalba, Soriano, Brusco A.
Front. Behav. Neurosci. 2020; doi: https://doi.org/10.3389/fnbeh.2020.00092
– DIRECT EFFECTS OF ETHANOL ON NEURONAL DIFFERENTIATION: AN IN VITRO ANALYSIS OF VIABILITY AND MORPHOLOGY
Guadagnoli, Caltana, Vacotto, Gironacci, Brusco A.
Brain Research Bulletin 2016, 127: 177-186 
– ETHANOL PERINATAL EXPOSURE INDUCES BEHAVIORAL ALTERATIONS AND ETHANOL  PREFERENCE IN ADOLESCENT WISTAR RATS
Aronne, Alimonta Rios, Pecile A, Brusco A.
Journal of Drug and Alcohol Research, 2013 Vol. 2, doi:10.4303/jdar/235791
–  EFFECTS  ON PRENATAL ETHANOL EXPOSURE ON RAT BRAIN RADIAL GLIA AND NEUROBLAST MIGRATION
Aronne, Guadagnoli , Fontanet , Evrard, Brusco A
Experimental Neurology, 2011, 229(2):364-371
– LOW AND CHRONIC ETHANOL EXPOSURE INDUCES MORPHOLOGICAL CHANGES IN THE      ADOLESCENT RAT BRAIN THAT ARE NOT FULLY RECOVERED EVEN AFTER A 10-WEEKS ABSTINENCE PERIOD. AN IMMUNOHISTOCHEMICAL STUDY. 
Evrard, Duhalde-Vega, Tagliaferro, Mirochnic, Caltana,  Brusco. 
Exp Neurol. 2006, 200(2):438-59.
Otros antecedentes académicos/profesionales: 
Ex Profesora Titular Regular de la Facultad de Medicina de la UBA  (2006-2019).
Ex Directora del IBCN (2008-2019).
Directora de diez tesis doctorales defendidas en la UBA; cuatro tesis de licenciatura; tres tesis de maestría (UBA-Universidad de Friburgo).
Autora de 93 trabajos científicos con referato (índice h=26); más de 200 presentaciones en congresos nacionales e internacionales; un libro de texto y ocho capítulos de libro.