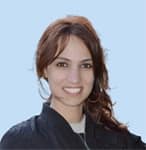 Nombre y apellido: Verónica Pastor.
Títulos:
Bioquímica.
Doctora de la Universidad de Buenos Aires-Área Farmacia y Bioquímica.
Cargos actuales:
Investigadora CONICET -Categoría Asistente en IBCN (UBA-CONICET).
Docente de Fisiología en Facultad de Medicina, UBA.
Institución/Afiliación: CONICET-Universidad de Buenos Aires, Instituto de Biología Celular y Neurociencia "Prof. Eduardo De Robertis" (IBCN), Buenos Aires, Argentina.
Universidad de Buenos Aires, Facultad de Medicina, Departamento de Ciencias Fisiológicas, Buenos Aires, Argentina.
Ciudad-País: Buenos Aires, Argentina.
Membresías:
Sociedad Argentina de Investigación en Neurociencias
International Society for Neurochemistry
Líneas/tópicos de investigación:
Utilizando técnicas farmacológicas, conductuales y bioquímicas, buscamos dilucidar mecanismos moleculares subyacentes al desarrollo de memorias/conductas inducidas por cocaína. Nos focalizamos en el estudio de diversos sistemas neuromoduladores en el circuito de la recompensa y en modelos de vulnerabilidad individual.
Principales publicaciones:
Pastor V, Castillo Díaz F, Sanabria VC, Dalto JF, Antonelli MC, Medina JH (2021) Prefrontal cortex nicotinic receptor inhibition by methyllycaconitine impaired cocaine-associated memory acquisition and retrieval. Behav Brain Res. doi: 10.1016/j.bbr.2021.113212
Pastor V, Medina JH (2021) Medial prefrontal cortical control of reward- and aversion-based behavioral output: bottom-up modulation. Eur J Neurosci. doi: 10.1111/ejn.15168.
Pastor V, Pallarés ME, Antonelli MC. (2018) Prenatal stress increases adult vulnerability to cocaine reward without affecting pubertal anxiety or novelty response. Behav Brain Res. 339:186-194. doi: 10.1016/j.bbr.2017.11.035.
Pastor V, Antonelli MC, Pallarés ME (2017) Unravelling the link between prenatal stress, dopamine and substance use disorder. Neurotox Res. 31(1):169-186. doi: 10.1007/s12640-016-9674-9.
Otros antecedentes académicos/profesionales:
Cursos de Especialización en Neurociencia y Adicciones
ISN-JNC Flagship School "The maleable brain: plasticity of neural circuits and behaviour". International Society for Neurochemistry and Journal of Neurochemistry. Alpbach, Austria. 2016.
FENS/IBRO "Cellular Biology of Addiction"-Laboratorio Cold Spring Harbor (CSHL). Parque de Investigación Biomédica de Barcelona (PRBB), Barcelona, España. 2012.
Ricardo Miledi Neuroscience Training Program "Neuroscience: from basic mechanisms to brain diseases". Instituto de Investigaciones Biológicas Clemente Estable. Montevideo, Uruguay. 2011.